Shopsmith Alignment
I fashioned an alignment jig out of hardwood and an inexpensive dial indicator. One of the jigs, made from oak, consists of a rail that fits snugly in the miter slot and is bolted to a .75" square piece with holes drilled so the rail can be mounted at many positions and the dial indicator mounted at two positions.
---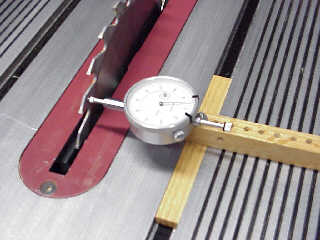 This jig allows measuring the distance to the slot of the blade and fence. When measuring the blade distance, it can be used to align the table to the blade, as well as measure blade, arbor, and bearing run-outs.
---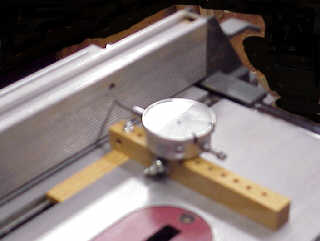 Aimed at the fence, it can be used to align the fence to the miter slot. By attaching an accurate square to the miter gauge in the second miter slot, it can be used to adjust the gauge to a perfect 90 degrees (no picture for this).
---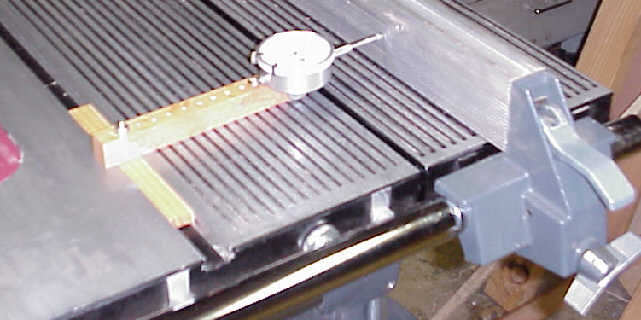 Once the fence is aligned, it can be move to the extension table, and the table adjusted so that the fence is square with the main table.
---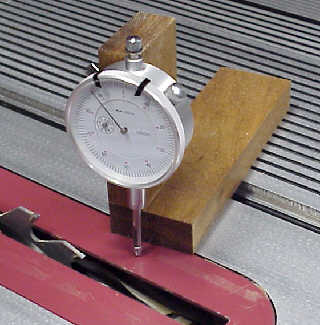 The walnut jig holds the dial indicator vertical to the surface. I use this to shim table inserts to be flat with the table, adjust depth of cut of dado blades, and even adjust the depth of router bits.
---